Reader Roofing can repair, maintain and install commercial gutters and downspouts in any length along with all of the necessary accessories such as copings, gravel stops, valleys, and trim packages.  Our products are available in steel and aluminum in a variety of colors as well as copper and stainless steel.  As always we will provide a free estimate for your commercial gutter needs.
Commercial Gutter Installation
Commercial gutters come in all shapes, sizes, and colors.  A proper gutter system helps to keep water flowing properly and not pooling on your roof or pouring on your customers' heads.  To match unique building styles in which pre-fabricated gutters are not available from gutter manufacturers, we can fabricate customized gutters and downspouts in our shop or on site.  Our technicians can provide you with a free estimate and present all of the options available to you for installing a new gutter system.
Commercial Gutter Repair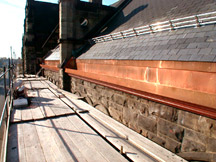 If you have a leaking gutter it can cause you more serious issues if unattended.  Our technicians will give you a free estimate for any gutter repairs.  We can seal, secure, and replace gutter components as needed and provide the appropriate materials for 6″, 7″ or larger custom gutters and downspouts to fit your current gutter system.
Commercial Gutter Maintenance
Properly maintaining your gutter system is essential for eliminating water back up and pooling or leaking issues.  We provide a free estimate for a full gutter service to maintain your system and keep it functioning at optimal levels.