If your home has a chimney that is damaged by storms, hail, lightning, wild animals, old age, falling branches or even lack of use, don't give up – today chimney repair in the Cleveland area comes from the professionals at Reader Roofing, Heating & Cooling. Whether ornate or functional, your chimney is part of your residential property and needs to look good as well as function as it was designed.
Fireplaces
All fireplaces and many furnaces use chimneys as part of their exhaust systems, so the last thing you want is a damaged chimney. Fortunately, Reader has over three generations in the roofing repair and installation business – including chimney repair services in the greater Cleveland metropolitan area – Reader knows how to make your chimney stand up straight and tall again.  Chimney caps and screens are essential for keeping mother nature out of your home.  We install custom copper, galvanized steel, or stainless steel caps and screens to keep your home free from birds, small mammals or other critters that could enter through your chimney.
Tuckpointing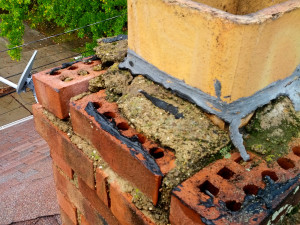 The most common material of masonry that we work on for our customers is brick.  However, stone such as sandstone, granite, stucco, limestone and tile are other materials that our masons repair.  Several factors can affect the durability of masonry on your home such as the materials used, the quality of the mortar and workmanship, and the pattern in which it is assembled.  Applying sealant to waterproof to certain masonry structures can help to extend the life expectancy as well.
Our Services
Our masonry services include:
Complete Rebuilds

Tuckpointing

Brick Replacement

Chimney Repair

Crown Replacement

Water-proofing/Sealant

Flu Liner Replacement

Chimney Caps and Screens
Contact us today for a free, no-obligation site inspection.
We'll examine your chimney, cap stones, or other masonry issues and let you know how to get your home back in to prime shape.