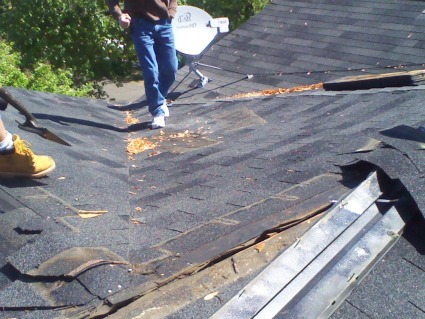 Bad roofers are a nightmare and a disgrace to the roofing industry.Bad roofers come in many forms but here are a few that stand out from the run of the mill mediocrity.
A bad roofer has these tendencies;
They are not qualified or trained in the skilled art of roofing

They overcharge for the work and under deliver- or do not deliver

They install poor quality roofing materials

They do not care about you as a customer

They do not care about responding to your calls

They are too busy to deal with you

They do not return to complete the job

They want to be paid in advance for work that is not done

They are here today and gone tomorrow

They offer cheap services – way below market value

They talk well – but that's about it.They are not licensed
Poor quality workmanship is a theme:
A small repair can become very expensive if it is not done right. Here we have some loose shingles. Not just one loose shingle but the cascading effect of a poor quality install.
In situations like this it is best to start over with a trusted local professional who takes pride in their work.
Hire the best local roofing experts:
You are encouraged to research the roofing contractors in your area. Select those that have stellar reputations that include:
Longevity. Do business with family owned business that have been around for generations
Quality minded roofing professionals. A good price is one thing- a bad job is another. Do business with roofing professionals that are cost effective and offer the best materials with a top quality install.
Responsive. It does not help to have a good price and a tradesman that is not responsive.Do business with roofing professionals that take the time to answer your questions and put you first.
Local roofing experts are the best.They are your neighbors and friends.
Knowledgeable and certified. You need roofing pros that are knowledgeable and certified to install the roofing shingles. In this way the manufacturer will provide a warranty.
Standing by their work: A great roofer will stand by his work- and back up the warranty if anything goes wrong.
Having the license,insurance and bonding to protect you in case of accidents or claims.
Having a great record with the Better Business Bureau and solid testimonials from your friends and neighbors .
Closing Summary of Bad Roofers and How to Avoid Them
Price is not the most important thing. Anyone can do it for less.Quality is the key. What good is the lowest price when you have to pay to have it done all over again.
Take your time when selecting a roofing professional, Do your research. Check them out, Be sure they are qualified and certified to do the work. Its heart breaking to find the warranty you purchased was void because of installer error.